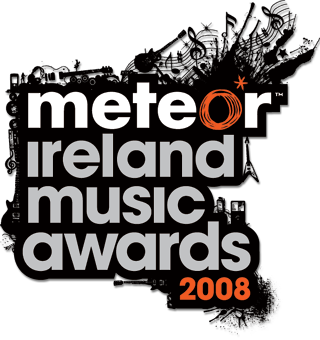 Missed the Meteor Awards because you were busy having a life on Saturday night? Then fear not. Hot Lunch was stuck at home with food poisoning so he now gives you a minute-by-minute account of Irish music's biggest pain in the whole of a night.
9.00pm - Theme music - Here we go, live from the orange carpet.
A couple of minutes of footage featuring a few professional poses from "stars" such as Westlife, the creepy Dowling twerp from Big Brother, the You're A Star judge and, crikey, it's Muse and Joe Elliot. There then follows some nervous looking Irish acts, a sheepish Cathy Davey, a strange looking Paddy Casey, and a succession of lads with haircuts and beards, all pausing briefly in front of a half a dozen photographers. Great. Not even a token girl band this year.
9:02 – Daire O'Brian tries to be funny over lots of screaming.
9.05 – The RDS looks good. Why can't it look like that for the all gigs there?
9.06 – Oh no. Paddy Casey is opening the show with "Addicted to Campari" or whatever it's called, an I-want-to-fit-in-lots-of-meaningful-stuff-in-the-verses-as-quick-as-I-can- before. Slowing. The. Song. Down. To. A. Crawl. "It's not for tonight" he sings. Too right Paddy.
9.07 – Gosh, his piano player has very hairy arms.
9.08 – Lot of Blizzards fans in tonight. Rugby jersey sporting teens galore. Or do they like the Coronas? Nope. They're there for Westlife and Shayne Ward.
9.10 – I can't remember any of that song. Was what's-his-name always this forgettable?
9.11 – Is that canned laughter amid the screams of the panto crowd or has Daire actually cracked a funny one?
9.12 – An actor that's appeared in just about every Irish movie ever and someone else get up to present best pop award to Westlife. Ho hum. Roisin Murphy looks good with a plate on her head.
9.15 – I love looking at whose clapping and who's not. Oh, they all are. "Hello Ireland!" Leather suits? What's going on in Westlife land?
9.17 - Patrick Bergin, on to present Best Female, looks like he's just had a wank backstage.
9.19 - Despite only having Late Late Show footage, a dress too big for her ample charms, and a big white fringe Cathy Davey wins Best Female! Hurrah! Dolores O'Riordan looks even scarier nowadays doesn't she? I wonder was she happy Cathy won?
9.20 – Another actor onto present an award. Is there no one else around? It's Stephen Rea. I like him though I hope he doesn't go off on one. Nope, no time. It's the Best Irish Male Award. Hmmm, have The Frames now officially become Glen Hansard? They've just shown Falling Slowly with the band even though the nomination says it's Glen. If he wins an Oscar will everybody like them, or him? Duke Special wins, deadly. He's a nice bloke, but he's a bit shy. Ohhh, he said a dirty word!
9.22 – The Cake Sale perform "Some Surprise". Good to see a very neat and tidy Gary Lightbody is still perfecting his spastic frontman tics. He's a much better pretend-spa than that spanner out of Editors though. Lisa Hannigan's skin looks good. Crikey! Is that where Ollie Cole from Turn ended up?! He's playing a steel guitar on his lap, and he looks like John Peel that time he was on Top of the Pops with The Faces. Wow! It's one of The Thrills. Nice performance, even though the supergroup were so super they could play without actually plugging in, or actually playing. Maybe if they did play we'd all die of famine?
9.30 – Oh bollocks, The Three Burials of Melquiades Estrada is on BBC2.
9.33 – Tom Baxter gets a big scream. Maybe Hot Press is right. Has Ireland really fell in love with him?
9.36 – No.
9.37 – Wonder how Tommy Lee Jones is getting on?
9.38 – Daire's right. Most Downloaded Song is a reward in itself. Why are they handing one out at the Meteors? Do the winners not get a Platinum MP3, a Gold iPod or a letter of congratulations from Lars Ulrich, or something? Oh fuck, it's Sharon Shannon and Mundy and "Galway Girl". What happened to the Steve Earle, why didn't his (original, and better) version with little Sharon not do anything? "An honest to God trophy" Mundy pipes - for someone else's song? Fuck off Eddie. He thanked the DJ's and the nightclubs!? That's me. I had to play that shite song FOUR TIMES at a nightclub last Christmas. And if it's not fucking "Galway Girl" it's that fucking Journey song. "Galway Girl" is the 'I Useta Love Her' of the 21st Century though, and women from Galway will be sick to fucking death of it for years and years and years to come.
"So, ahh, where are you from?" asked Mark.
"I'm from Galway," repied Mary, her lips trembling.
"I ain't ever seen nothing like a Galway Girl!" sings Mark. "Yeeehoo!"
The whole pub joins in. Mary runs away sobbing.. The End.
9.40 – Wayhey! Eddie Jordan's had a few. Hope he's not driving home. At least he's the only one on stage who actually seems to be enjoying himself tonight. The Future Kings of Spain were nominated for Best Album?! For what? An album with an eight minute song and 10 other identical ones? Gimmie a break. Paddy Casey wins. Did people actually buy that album?
9.41 – Why is Lord Henry Mountcharles wearing a Mayor's chain?
9.42 – At least Paddy Casey was honest enough to admit that Cathy Davey should've won it. And he said a dirty word. Oo-er missus etc..
9.44 – It takes two people to present a Humanitarian Award? And one of them is a drunken gardener who loves Sinead O'Connor. I know Humanitarian Awards and music award shows go hand in hand, but man, do they drag on. It's like when the bits about AIDS and famine come on during Comic Relief when all you really want to see is Vic & Bob fall about the place with the aid of a frying pan and a hammer. Tommy Lee Jones has just discovered two bullets; that film looks good. I knew I should have gone to the cinema when it came out.
9.48 – Colin Farrell and Brendan Gleeson are on Tubridy Tonight!
9.51 – Did Sinead O'Connor have a stroke? God, the Republic of Loose drummer has lost a sight of weight hasn't he? And he's grown hair. He's been on the sun bed too. Is this song about Limerick? Good camera shot of a girl walking through the audience to the toilet. Mick Pyro, pity he didn't stay in the toilet. What a travesty of a song.
9.52 – I'd love to watch an entire World Cup or a Cheltenham festival in a pub with Brendan Gleeson and Colin Farrell. I hope 'In Bruges' isn't a pile of cheeky chappie crap.
10.00 - If they ever making a Joe Dolan biopic, they should get Colin Farrell to play him.
10.05 – Funny the way extra Boyzone tickets were put on sale on Friday even though the show at the RDS this summer is far from sold out. Bet Keating is regretting it. He is. Look at the face on him. Keith Duffy looks so out of place doesn't he? He's like a groom trying to enjoy the first dance at his wedding when he knows the woman he should have married is sitting over there by the bar. It's the same medley they did at Children in Need too. Can they not just sing one fucking song instead of doing a trailer for undersold live shows? Oh, and Stephen Gately is a cunt.
10.08 – The regional DJ from Cork just thanked Daire O'Brien for being a legend.
10.09 – Glenda Gilson looks quite weird. Shayne Ward looks good. Ray Foley wins Best DJ. Thank fuck Ray Darcy didn't win.
10.13 – Jim Aiken receives posthumous award. Wow. Charlie Pride looks good for a man in his 70's, and Louis Walsh can still crack a yarn. "He looked after the stars, but he also looked after the crew" said Christy Moore, and Louis Walsh rightly said the Irish music industry would be a different – and a worse - place without him. I met Jim a few times, he was a proper gent. Peter Aiken cried as he picked up the award, it was the first real tears I think I've ever seen at an Awards Ceremony, er, ever. Aiken never missed a show. Hope he was watching this.
10.20 – So this is the Coronas? They're this year's version of the Blizzards, or the Revs aren't they? Good God, they're diabolical, but if I was in college in Carlow or somewhere like that, and had nothing to do all day but drink cans and sing 'Galway Girl' to any female from Connaught, then there's no doubt they'd be my fave band. They're like Feeder without any lyrics. Can't wait to see them up on the Main Stage at Oxegen at 11 o'clock on Sunday morning this summer...
10.23 – Wonder if the remake of Rollerball on TV3 is any good? Oh, Westlife are on Tubridy Tonight! Jesus, he's getting all the stars tonight. He's just asked Mark (the gay one) if he wants to have kids in a manner that suggested male pregnancy.
10.30 – It's time for the best song of the night – "Reuben". Cathy Davey rocks, and Keith Farrell is the finest bass 'cat' on the planet (even though he's miming tonight). The guy from the Immediate has turned into Liam Clancy. What a great song though, and a decent performance. There'll be at least one artist feeling a Meteor sales bounce next week blah blah blah etc etc.
10.35 – Is it just me or are the nominations for best folk/traditional act the same every year? It's the first "Dublin is the greatest city in the world" moment of the night from some token MTV dude over for the night. Damo Dempsey wins, fair play. Love the new look. He'd be a construction worker if it wasn't for the fans, or so he told us. He's also the only one with a cupla focal too, and the only winner so far with a bit of charm and charisma.
10.40 – Ham Sandwich have been chosen by the listeners of Ricochet's show to follow in the illustrious footsteps of Angels of Mons, Relish, Rubyhorse and Royseven! Hope they don't. They deserve better even if the lad with the beard is, well, whatever. I suppose Hot Press will now hilariously get them to pose with their award between two slices of bread? Manager Derek Nally looks delighted, and I think everyone in Irish music is delighted for him. Dracula has been at the coalface for a long, long time and he can now continue to chip away at it and bore us to tears with Van Morrison and Juliet Turner stories armed with a long overdue Meteor.
10.45 – Nice of Muse to make the journey over to pick up their award and talk about how much they love Dublin. I thought they kept the crowd waiting for an hour at Oxegen? Anyway, I'm sure that when they did play, it was worth it. I saw a bit of it; I think they only got to play one suite from "Tales from Topographic Oceans" because of the delay.
10.46 – Westlife again, and they're singing live. Pretty good as it happens; well, they're in tune at least.
10.50 – Ding dong. I'd STILL give Bo Derek one. She's on Tubridy and she looks awesome for a 60 year old... Blimey, she's just said "coming to Dublin is like going to Hollywood." She works with disabled veterans. Hmmm, I think I'd happily serve in Iraq and be blown to smithereens by an IED if I knew Bo Derek was waiting for me in a hospital in California, ready to teach me how to play wheelchair basketball.
10.55 – Who bought Scouting for Girls onto that bill? Are they this year's The Feeling? They should be done for stealing chords from the Beach Boys and, erm, looks from Keane. Fuck off. What would Elvis do? He'd fucking shoot you, then get the Colonel to hang you.
11.00 – Probably the most moving moment of the night – a tribute to the late, great Joe Dolan, a guy the Meteor Awards and their ilk have ignored for years. Indeed, 2 issues after his death, Ireland's so-called leading music magazine Hot Press has failed to even acknowledge the fact he has died.
Anyway, Gerry Ryan grasped the moment brilliantly with his tribute. All night long the audience screamed and screeched for Westlife, for Shayne Ward, for Boyzone and for whatever pop/rock act wets their knickers, and Ryan reminded them that Dolan was the first one the Irish screamed for, and through his international fame and his incredible strike rate of no. 1 singles abroad, he brought home a dream that Irish acts could do it. That they could be pop stars. He was the first to show it can and could be done.
Ireland has produced a galaxy of stellar talent over the past 50 years, he said, but few who could cross borders, genders, or generations like Joe Dolan. "Joe Dolan rocks" he roared, and when you saw the cracking film of clips they put on after, you had to agree with him. Joe Dolan did indeed rock. He was Ireland's first pop star, and he enjoyed every bit of it.
The film after was very moving, and as it ended with "Goodbye Venice Goodbye" I shed a tear for Joe. There'll never be another like him again.
11.10 - It was kind of ironic that the next award went to a band from Joe's hometown of Mullingar, The Blizzards. Dunno what he'd make of them, and if there is a torch being handed on back at the ranch (which there isn't, The Blizzards have yet to convince) and if it is in the hands of the Blizzards, then at least they'll have plenty of people to show it off too. They may not push everybody's buttons, but they push more buttons than most Irish acts. Their singer told us he used to caddy for Joe Dolan and hoped he would be proud of them. I'm sure he is in his own way.
11.13 - Shayne Ward actually sang quite well, and after that moving tribute to Joe Dolan, it was quite a nice Meteor Award moment to be honest, with the screaming women finally drowned out by their own singing.
11.15 – Another odd but nice moment as Aslan win Best Irish Band. Aslan winning would normally send hundreds (including me) running to the doors screaming about a lack of cool, kudos, tunes etc but their boundless enthusiasm and their conviction to what they do 25 years into the game has to be acknowledged and admired. There was only two of them there though, the livewire Billy McGuiness and the drummer. The others were probably away doing an unplugged gig somewhere... Anyway, McGuiness was over the moon with the award and jumped around like a baby. By thanking EMI he also revealed something worth pointing out. Cathy Davey, Roisin Murphy, Dolan and Aslan were all signed to the label, a label that has generally been good to Irish acts over the years. Hopefully that will carry on even after Guy Hands and Terra Firma make them all sing for their supper. McGuiness finished his speech in true oul leather jacket fashion, but not before getting a plug in. "We'll see yiz in the Olympia on March 16th – ROCK AND ROLL!" he roared. Alongside Eddie Jordan, he was the only one apparently enjoying himself up there.
The drummer then paid a nice tribute to the younger bands nominated at the awards and he followed that up with a decent, from-the-heart plea for Irish radio to support these up and coming Irish acts. He name checked a few of them, who can all be thankful for the plug. Two of them had appeared on 2fm's 2moro tour, but they have rarely been heard on daytime 2fm. We never saw Bono do that when U2 won the same award every other year, so fair play to Aslan.
11.25 - Pat Shortt introduces the Saw Doctors. Two fine examples of rural Irish gold. I'm no big fan of either of them, but there was something quite nice about the Saw Doctors VT that followed. The ultimate compliment, as Davy Carton pointed out, is that in a 100 years times there will be someone singing a Saw Doctors song in a pub. And he's right. Will Scouting For Girls, Ham Sandwich, The Coronas or Paddy Casey be remembered in 25 minutes time - yet alone 25, 50 or 100 years?
You know, it's easy to take the piss, but the Meteors, in recognising Joe Dolan, Aslan and Saw Doctors, finally seem to have recognised the hard graft of acts that are neither on the radio, or on the wavelengths of most of those who tell us what we should like and what we should buy. But these are the guys that deserve to be rewarded, and there was something fitting about this conclusion to this year's Meteors that they finally were - and en masse too. As an awards show, the Meteors has been defunct for years, so in coming on like an awards show from years ago maybe now that they have rewarded the old wood, they can move on. But to what exactly? U2? Snow Patrol?
There was a few signs of a bright future tonight, but sadly, what the 2008 show demonstrated - in those that won in other categories and in those that failed to win elsewhere - is that there's all too few of acts left in Ireland of any character. Perhaps with the exception of Dempsey, who won the folk award, and probably Ham Sandwich, who took the previously blighted 'Hope For...' home to Meath, there's very little in the way of character in Ireland's current crop of bright young things. Maybe a fiver on the Saw Doctors to win Best Irish Band at next year's award may not be such a daft bet...